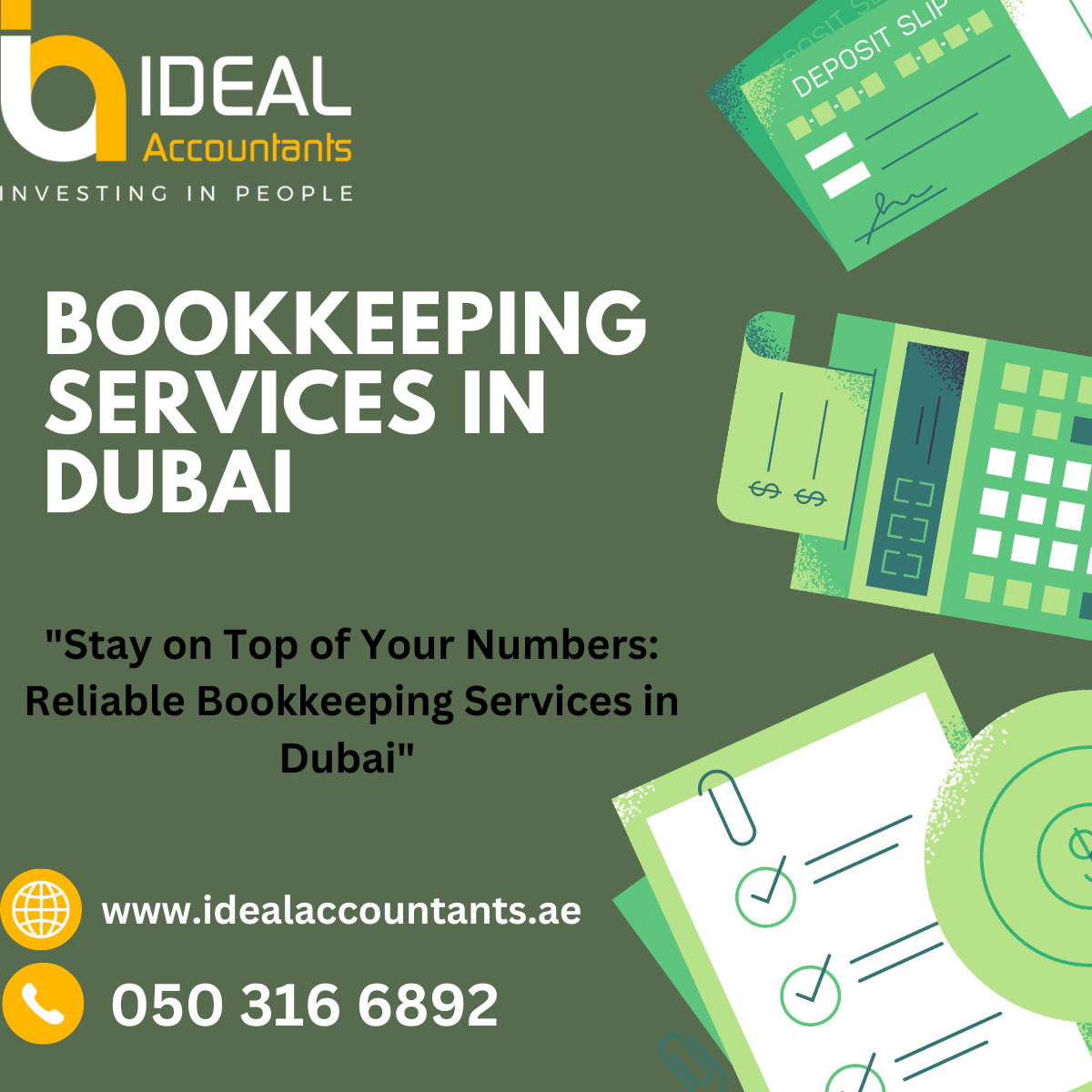 Bookkeeping Services in Dubai
Accurate bookkeeping is crucial for a sustained and successful business. Here at Ideal Accountants Provides Bookkeeping services in Dubai we know the importance of flawless bookkeeping. Our clients put all the bookkeeping burden on our shoulders and focus on their core business activities. Ideal accountants can provide bookkeeping services in Dubai at your premises or off-site which gives you spare time to get on with your daily to daily business routine.
Ideal accountants can provide you with state of the art accounting software which can full fill all your day to day Bookkeeping need, we can give you online access to your data so can have control on your books at all times. Bookkeeping Services in Dubai by Ideal accountants can even provide you with a free 15 days trial period for your software and the good thing is if you are not satisfied after 15 days you get a full refund of your software.
Bookkeeping services in Dubai can be a great way to keep your business organized and efficient. With a professional accountant on hand, you can ensure that all the financial transactions are recorded accurately and in a timely manner. Additionally, bookkeeping services can help you track your expenses and make sure that you are spending your money wisely. If you are looking for reliable bookkeeping services in Dubai, contact one of the experts at your local accounting firm.
Dubai is known for its luxurious lifestyle and its high standards in both business and leisure. This has led to a burgeoning market for bookkeeping services, as businesses looking to keep track of their finances have increased in number. With the help of a qualified bookkeeper and business consultants, businesses can ensure that their financial data is accurate, up-to-date, and easily accessible.
Different types of bookkeeping services in Dubai UAE
There are many different types of bookkeeping services in Dubai. Some businesses may need only basic bookkeeping services, such as recording transactions and keeping track of cash balances. Other businesses may need more complex services, such as preparing financial statements and tracking stock prices.
It is important to choose the right type of bookkeeping service for your business. You should also consider the needs of your employees and the type of information you need to keep track of.
Recording transactions
Bookkeeping services in Dubai offer a convenient way to keep track of all your transactions and maintain accurate financial records. These services can help you keep your business organized and minimize tax liability.
Many bookkeeping and accounting firms also offer other valuable services, such as payroll and estate planning. If you're looking for a reliable way to manage your finances, consider booking a recording transaction with one of the many qualified providers in Dubai.
Keeping track of cash balances
Keeping track of your cash balances can be a challenging task. But with the help of a bookkeeping service, it becomes much easier. This type of service will keep track of all your transactions, including those involving cash, and provide you with a detailed report every month. This way, you will always know exactly how much money you have on hand and where it is located.
Preparing financial statements
Financial statements are an important part of a business's recordkeeping. Bookkeeping services in Dubai offer a variety of ways to prepare financial statements, including preparing and issuing annual reports, providing tax advice, and auditing services.
Tracking stock prices
Tracking stock prices is a bookkeeping service offered in Dubai. The company uses international financial databases to keep track of the prices of stocks and indexes. Customers can receive real-time updates on stock prices and market trends.
Bank reconciliations
If you're a business in Duhttps://idealaccountants.ae/services/vat-services-in-dubai/bai and need to keep track of your bank reconciliations, then consider using a bookkeeping service. This type of service is perfect for businesses that have a lot of transactions and need to track their finances accurately.
With a bookkeeping service, you'll get everything from invoices to bank statements delivered to your inbox every month. This makes it easy for you to keep track of your expenses and stay on top of your financial situation.
VAT Compliance
Dubai is a popular tourist destination for both locals and foreigners. With so many people in the city, it can be difficult to keep track of all of the tax obligations that come with living in Dubai. One way to alleviate some of these stressors is to use a bookkeeping service. This service can help you keep track of your income and expenses, as well as ensure that you are complying with all of your tax obligations.
Why use bookkeeping services?
Bookkeeping services can be useful for a variety of reasons. Bookkeeping can help businesses organize their finances, track spending, and optimize their cash flow. Additionally, bookkeeping can help businesses identify and resolve financial problems early.
By keeping comprehensive records of transactions and expenses, businesses can detect irregularities and make informed decisions about how to allocate resources. Finally, outsourcing bookkeeping services can provide valuable insight into a company's performance and potential future growth. When used correctly, bookkeeping services can be an invaluable tool for business owners.
The benefits of using a bookkeeper
Some of the benefits of using a bookkeeping service are that it can help to organize and track finances, improve cash flow, reduce risks associated with irregular accounting outsourcing practices, and facilitate communication between staff members and management. In addition, a reliable bookkeeping service can provide peace of mind for businesses by providing accurate financial reports and tax documentation.
Who can benefit from bookkeeping services?
Bookkeeping services can provide benefits for a variety of individuals and businesses. Individuals who need help with their personal finances, or who run their own businesses, can benefit from bookkeeping services. Bookkeeping services are also beneficial for small businesses that want to track their finances and stay organized. Large businesses may also find bookkeeping services helpful in order to keep track of expenses and profits.
Choosing the right bookkeeping services in Dubai provider :
Bookkeeping is an important task for any business. Having the right bookkeeping service provider can help your business run smoothly and ensure accurate financial information and records. However, choosing the wrong bookkeeping service provider can be costly and time-consuming, leading to inaccurate reporting and wasted resources. Here are some factors to consider when choosing a bookkeeping service:
1. Expertise. Make sure the bookkeeping service provider you choose has the expertise necessary to carry out your specific needs. If your business is small, for example, a less experienced provider may not be able to handle all of your accounting tasks properly.
2. Cost efficiency. Look for a bookkeeping service provider that will offer cost-effective options tailored to your specific needs. Some audit firm offer flexible payment plans or discounted rates for long-term contracts.
3. Automated systems and reporting tools. It is important to look for a bookkeeping service provider that offers a fully-automated system, which will allow you to easily manage your DDP accounting tasks.
Conclusion
In conclusion, bookkeeping services in Dubai are a great way to keep your business organized and on track. With the help of a qualified bookkeeper and professional chartered accountants, you can avoid costly mistakes and stay compliant with tax laws. If you're looking for a reliable solution to your bookkeeping needs, contact a reputable accounting company like ours today!
People May Ask
How much should you pay someone to do your bookkeeping?
Bookkeeping is a necessary evil for small businesses, but it can be a time-consuming and frustrating task. If you're self-employed, paying someone to do your bookkeeping can be a cost-effective way to avoid headaches down the road. Depending on the size and complexity of your business, you might be able to pay $500 to $2,500 per month for someone to handle your bookkeeping.
Does XERO work in Dubai?
XERO, a global digital platform for accounting and invoicing, announced it is now available in Dubai. The company's artificial intelligence-based system makes it easy for businesses to automate their billing and payment processes. "We are thrilled to be expanding our presence in the UAE market with the launch of XERO in Dubai," said David Sacks, CEO of XERO. "
With our state-of-the-art technology, businesses can easily manage their finances according to international financial reporting standards and get paid faster." With XERO, businesses can invoice quickly and easily, receive payments in a matter of minutes, and track their expenses all in one place.
What services do bookkeepers offer?
Bookkeepers offer a variety of accounting services, including bookkeeping, financial planning and management, tax preparation and filing, estate planning and business advisory services. They can help you keep your finances in order and make sure you're taking the best care of your assets. They can also help you plan for your future by helping you set up a budget and figure out how to save money.
How much does a virtual bookkeeper cost?
Virtual bookkeepers are becoming increasingly popular as businesses seek to save money on accounting and bookkeeping services LLC. The average cost of using a virtual bookkeeper is around $500 per month. This includes the cost of the software and an accountant to help you set up and use the software. Some virtual bookkeeping platforms offer free trials so you can test out how the service works before committing to paying for it.